Denise grew up drawing and painting, winning many art awards, even as a young child. At the age of 16 she had the opportunity to study art in Paris for six months. While living in Paris, she befriended many avant-garde American artists, such as Larry Rivers. She also immersed herself into the world of the French Impressionists. Both exposures were, and are still, huge influences on her work.


Before graduating high school, Denise had her first gallery showing. She then went on to be an art major at the University of California at Berkley.
After moving to Seattle she showed in galleries, while working as an art teacher. She then made quite a name for herself as a regional training artist at Nordstrom in the cosmetic industry.
Denise is now painting commissioned portraits and places, with a propensity for POP CULTURE ICONS. She has done a series of paintings of her mother, Hollywood actress (inventor, and artist) Hedy Lamarr, which are featured here.

​
~ TAP
CATEGORIES
​ON TOP OF PAGE ~
​


1963 - THE BEVERLY HILTON HOTEL GALLERY
Beverly Hills, Ca.

1973 - THE PIONEER SQUARE GALLERY
Seattle, Wa.

2003 - THE ARTISTS' GALLERY OF SEATTLE


Seattle, Wa.



2004 - MURPHYS' STUDIO


Seattle, Wa.



2005 - OLA SALON AND SPA
one man show -

Seattle, Wa.



2005 - 2006 - THE BROADWAY
one man show -

Seattle, Wa.



2006 - 2007 - THE SORRENTO HOTEL


Seattle, Wa.



2008 - MURPHYS in PIONEER SQUARE
Featured Artist - Gallery Walk -

Seattle, Wa.



2010 - ALKI ARTS
Seattle, Wa.

2011 - THE SIXTH STREET ART GALLERY
Featured Artist - Art and Wine Gala - Prosser, Wa.
2012 - BUMBERSHOOT - ELVISTRAVAGANZA!​
Seattle, Wa.

2016 - WEST SEATTLE ART WALK​​


Featured Artist - Windermere​ -

Seattle , Wa.​



2022 - EQUINOX STUDIOS, Arts & Artisans
Seattle, Wa.​​

2023 - PHOENICIA RESTAURANT
Seattle, Wa.​ ​​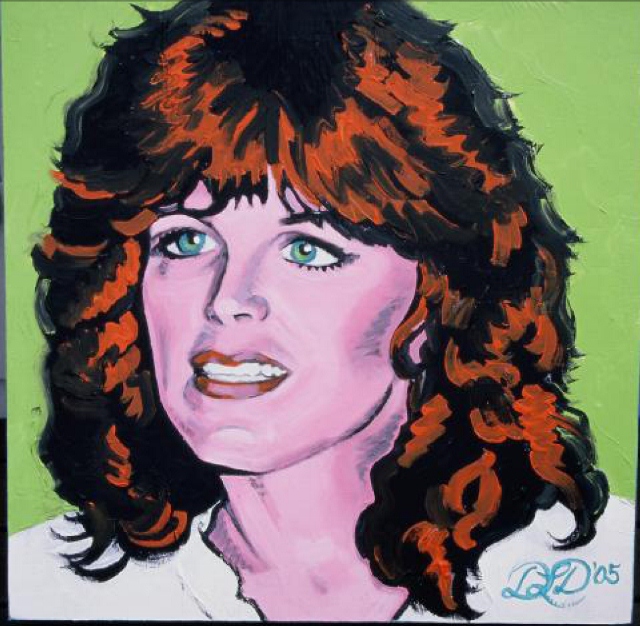 where the magic happens...
"A good painting to me has always been like a friend. It keeps me
​company, comforts and inspires."​

-Hedy Lamarr​​